I was pleased to meet my first English Learning Buddy (ELB), Deepakshi Ohja, through OneProsper International. Throughout the 10-week program, Deepakshi and I worked on her English pronunciation by reading the book Miss Pickrell Goes to Mars by Ellen MacGregor. From the first meeting, I could tell that Deepakshi loved learning and truly wanted to improve her English skills. Each class she would read a chapter aloud, and occasionally, I would help her sound out words. After the first couple of meetings together, I advised Deepakshi to speak slower with an emphasis on tone to evoke emotions and perspective to tell a captivating story. Eventually, she started to tell a story instead of reading words off of a page. It was such an honor getting to know Deepakshi, and I hope by sharing her story you can be as inspired as I was.
Deepakshi Ohja learned about OneProsper through her school. She elaborated, "they asked us to register for this program by which we would be able to communicate and work with girls from other countries who really want to help us with our English communication skills. My class teacher asked all the girls in my school to apply and we did. All my friends got paired with different mentors and everyone got a new friend. We were all so happy." The opportunity to make a new friend from another country and learn about their culture is very unique and beautiful. It is evident that both learners and buddies are grateful for this intercultural experience.
---
After signing up for the ELB program, Deepakshi knew what she wanted to get out of the program: "I was looking forward to gaining more confidence and talking to a person from a different country. I was looking forward to meeting with someone who would have patience with me and someone who could show me kindness. I got all of those things." The ELB program has not only allowed Deepakshi to enhance her English skills, but it also built her confidence. As a woman, it is especially important to have confidence in order to turn thoughts into actions. When a woman is confident, she believes that she is good enough to apply for a job, speak in front of hundreds of people, and conquer the world. The combination of English proficiency and confidence opens an array of opportunities for girls in India and all over the world.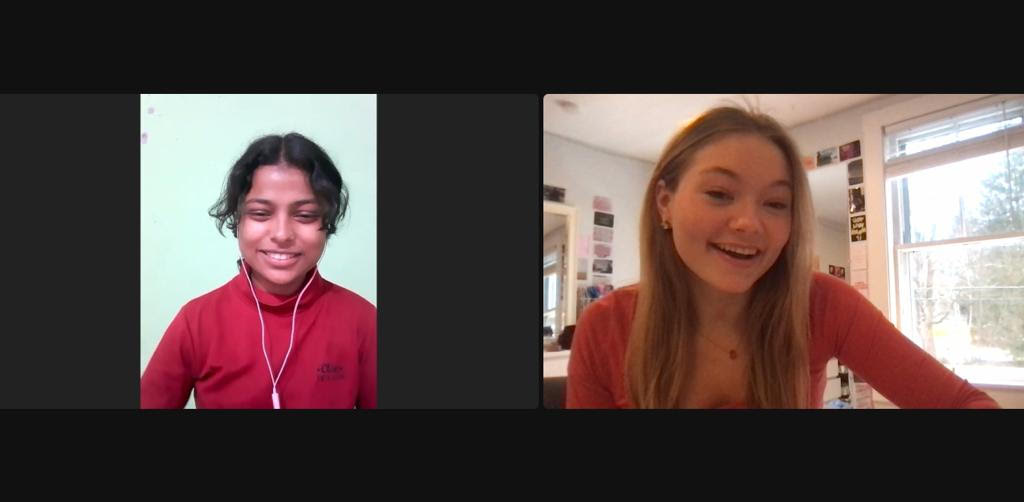 Deepakshi expressed her gratitude for having a female mentor when I asked what role I played as her buddy. She said, "You are a role model. The way you speak, the way you present yourself, your kindness, and your patience with people. I really hope I get that someday." As a buddy to Deepakshi, I can wholeheartedly say that she was my mentor. The relationship between a buddy and learner is like mutualism in the environment. In a mutualistic relationship, both parties work together in order to benefit from each other. As a buddy, I learned about Deepakshi's culture specifically surrounding India's education system. I can contest that when Deepakshi was asked to describe what else she got out of our meetings together she exclaimed, "a friend." Even after the sessions with Deepakshi have ended, we still keep in touch on WhatsApp. We are both grateful to have the opportunity to make a forever friend from another country.
---
As I mentioned earlier, I have learned about India's education system through Deepakshi. I asked her if she could explain some educational issues in India: "Indian education is all about the facts, instead of real-life knowledge. However, they are trying to change the system," said Deepakshi. While India has really emphasized improving school systems, Deepakshi recognizes that there is still a lot of work to be done. She highlights one key problem with Indian society: gender discrimination. Sexist beliefs are not unique to India's culture, rather this prejudice is deeply rooted in many cultures. When asked if men have more opportunities than women, Deepakshi uttered, "It's changing but it will probably take a lot of time. It's still a patriarchal society. Men are still considered superior and women are still considered inferior. Men get things very easily and we have to work really hard for them." Gender disparities affect women heavily as men are largely favored in the workplace. However, English fluency for women could help bridge the gender gap. Deepakshi described how she believes learning English is important, "I think learning English is very important. English is a language spoken in most countries. In India, there are so many jobs and places that require speaking English." As Deepakshi described, English opens the door to an ample amount of job opportunities that could change the trajectory of a woman's life for herself and her family.
---
Finally, I asked Deepakshi what is the role of organizations like OneProsper in combating these educational issues. She responded, "they help women and girls build up confidence and stand up in the world. The world is a very cruel place for people, especially for women, and it helps when somebody has your back and pushes you forward with your life and it makes it better in general. It helps build self-esteem, confidence, and believing in ourselves."
OneProsper has helped Deepakshi gain life skills that she will use in her future career. Deepakshi plans on going into family law to fight against domestic violence and rape that is prevalent in India. She remarked, "after marriage, those horrific actions are legal. You can't press charges if your husband forcibly rapes you after marriage; I want to change that. I want to make an impact on the world. I want to help women and people in general who have suffered wrongs."
Deepakshi has a very bright future ahead of her, and I am so grateful that I got the opportunity to learn about her aspirations and culture. She has inspired me and always will.